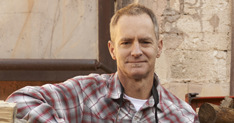 Dan Murphy
Logan, Utah


Artist's Bio
J. Daniel Murphy has presented his work in fifty-five invitational exhibitions, including six in conjunction with the annual conferences of the National Council on Education for the Ceramic Arts (NCECA). In 2007 he participated in Bourbon and Whiskey: A Welcome Inspiration held at Melwood Arts Center in Louiveille, KY and Line to Volume at Indiana University in New Albany, IN. In 2006 Murphy exhibited in A Traveling Tea Bowl Exhibition held at Zuver Performing Arts Center Gallery in Macon, GA and the University of North Texas in Denton, Texas. He also presented at Utilitarian Clay, held at Arrowmont School of Arts and Crafts in Gatlinburg, TN. His list of individual exhibitions include works presented at Tong-In Auction Gallery in Seoul, Korea; Braithwaite Fine Arts Gallery at Southern Utah University in Cedar City, UT and Jundt Museum of Art, Gonzaga University in Spokane, WA. While at Utah State University, Murphy has made twenty-one presentations at universities and art centers throughout the country, and has exhibited and presented at three wood fire conferences. In addition, Murphy was an organizer and Master of Ceremonies for the international wood fire conference entitled, Twenty + One Years of the Tozan Kiln held at Northern Arizona University Art Museum in Flagstaff, AZ. In 2005, Murphy won an Award of Excellence for his wood-fired jar, one of only sixty-eight selected from 1,621 entries. He was recently awarded Researcher of the Year and Artist of the Year in the college of Humanities, Arts and Social Sciences at Utah State University in Logan, UT. Murphy has twenty years of experience firing wood-burning kilns and was recently invited to participate in the "First International Anagama Seminar" at the Arrowmont School of Arts and Crafts. Murphy is currently an Assistant Professor of Art at Utah State University.

---
Artist's Statement
My ceramic vessels are created swiftly and directly on a slow
spinning potter's wheel. I usually work in series, developing
one body of work at a time. My goal is to make gestural
vessels that reflect my presence in the finished form. This
results in families of pots that are inevitably related, yet each
piece stands as a unique one-of-a-kind vessel. After the
pieces are made most are fired without applied glazes to
stoneware temperatures in wood-burning kilns. Colors and
textures on the ceramics result from the interaction of wood,
fire and clay. My hope is that each successive generation
produces a better piece. I feel a connection to contemporary
as well as ancient ceramics, and strive to create objects that
will withstand the test of time.
---
Artist's Resume
View Resume PDF