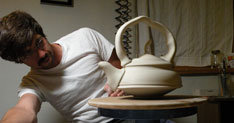 Mike Jabbur
Artist's Bio
Jabbur has an M.F.A. in Ceramics from Ohio University, a B.A. in Graphic Design from Virginia Tech University, and is currently the Studio Director at Santa Fe Clay. By means of the functional vessel, his work discusses human interaction and shared experience, highlighting actions and events that simultaneously enrich our lives and celebrate the positive aspects of being. Jabbur has shown in galleries around the country including Northern Clay Center in Minneapolis, MN, Market House Craft Center in Lancaster, PA, Craft Alliance in St. Louis, MO, and Santa Fe Clay in Santa Fe, NM.

---
Artist's Statement
"...in the long run there results something for which it is worth the trouble of living on this earth as, for example, virtue, art, music, the dance, reason, the mind--something that transfigures, something delicate, mad, or divine."
--Friedrich Nietzsche

I am forever attempting to make sense of the world I live in. In searching for a commonality among people, I forever return to the idea that we are all connected by struggle. Within this search, I am most interested in our methods of overcoming, or at least temporarily escaping this struggle.

Fundamental to my production of utilitarian pottery is the forging of connections that simultaneously enrich lives and celebrate the positive aspects of humanity. My pottery is about these very entities: material, form, utility, interaction and experience; through the exploration of these entities, it is my intention to re-engage the user with the vessel.

Utilitarian pots are to be used-to be touched, held, filled, emptied, cleaned, and shared. These attributes define and direct my artistic pursuit. Aspects of utility have been explored ad infinitum such as the way the rim of a cup meets the lip of the user, the way a handle fits the hand, and the way a vase holds an arrangement of flowers. My pottery exists within this tradition, yet allows for my own personal interpretation.

Within my discussion of relationships, I draw connections between the ceramic vessel and the human body. The body is a wonderfully complex structure, limitless in its opportunities for investigation from the micro to the macro, the corporeal to the conceptual. Visual allusions to anatomy and the human form sanction a means of understanding-a postern to the familiar. In the case of my pots, such references encompass, but also extend beyond basic parallels such as foot and lip, belly and shoulder. I revel in the expressive potential of clay's materiality-its willingness to glisten and stretch, fold and fissure-and such qualities coalesce in harmony to give my pots a unique surface, a skin. When this skin is applied to a form that encompasses other corporeal references, the users ability and desire to interact with and to understand my pots is enhanced. Dynamic movements expressed by the human body also inspire my sense of form; my pots bend and twist, wriggle and dance. Such gestures further the associative phenomenon regarding our means of understanding. Concurrently, these gestures-especially dance-recall the human act of celebration. A metaphorical connection is drawn between the colloquial perception of human celebration and the metaphysical celebration that occurs when actively engaging in the act of eating and drinking.

My pots enhance our breaks in the day-our moments of reflection, conversation and celebration. Our consumption of food and drink is too often transformed into a hurried event; my pottery succors modest endeavors such as afternoon coffee or sharing in drink with a friend at the end of the day-activities that enrich human relationships.

---
Shot Glass
not available