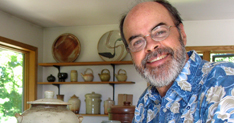 Guillermo Cuellar
Shafer, Minnesota


Artist's Bio
Guillermo Cuellar was born in Venezuela and studied ceramics at Cornell College, Iowa, where he graduated with a B.A. in Art in 1976. After working as an environmentalist he returned to pottery in 1980, setting up a studio in the village of Turgua, an hour southeast of the capital city, Caracas, where he made pots for the following 18 years.

Guillermo has taught workshops in Venezuela and Chile and participated in the organization and execution of workshops given by international guest potters in Venezuela. In 1992 he brought a group of potters together to found Grupo Turgua, a non-profit association of artisans dedicated to the support of good craft in Venezuela. Grupo Turgua hosted sales at his studio offering pottery, jewelry, photography, woodwork, drawing, weavings, Venezuelan native crafts and other creative work until 2005.

His work has been on display in the Venezuelan National Art Gallery, Museo de Arte Contemporaneo de Caracas Sofia Imber, Museo de Arte Contemporaneo de Puerto Rico, The Smithsonian Institution, The Northern Clay Center, Mashiko Municipal Pottery Art Museum and private galleries in Minnesota, The United States, England, Venezuela and Chile.
In 2005 Guillermo and has family established a home, studio and showroom in the upper St. Croix River valley near Shafer, Minnesota, where he is currently making pots.

---
Artist's Statement
Home is where the pots are. Whether for salad, tea, soup, baking, pouring, serving, displaying flowers, containing cookies, holding pencils, pots provide us with a human context to warm and enrich contemporary everyday experience, so often cold and impersonal. In a way that only a good, handmade object can, a handsome mug can make a cup of coffee sing and a graceful vase can make flowers exquisite. Pots are good company, emmisaries for their makers, quietly telling us about them if we choose to listen.
---