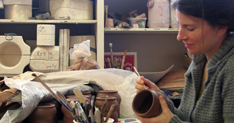 Shanna Fliegel
Billings, MT


Artist's Bio
Shanna Fliegel grew up in Northwest New Jersey with a ferret, horse, dog, cat, bird, iguana, lizards, snakes, and rabbits. After graduating with her BFA in Ceramics from James Madison University in Harrisonburg, VA she went on to complete two residencies at the Cub Creek Foundation in Appomattox, VA and Greenwich House Pottery in NY, NY. Drawing and painting was her first love and she continued to search for the perfect marriage of image and clay while completing her MFA at Southern Illinois University, Edwardsville.

After graduate school Shanna had the opportunity to work as a resident and teacher at the Clay Art Center in Port Chester, NY and as a summer resident at the Archie Bray Foundation in Helena, MT. Shanna is currently teaching at Montana State University in Billings.

Over the past few years Shanna's work has been shown at the 2009 NCECA Biennial, the 2010 NCECA Invitational, and featured as an emerging artist in Ceramics Monthly.

---
Artist's Statement
The surrealistic nature of dreams and childhood memories motivate the manifestation of the drawn, sculpted, and painted images and forms within my work. I intend for image, color and clay to exist as a harmonious vehicle that can generate stories for the viewer.

Beyond the bizarre, I also question the disposition of contemporary society's relationship and or disconnect with both wild and domesticated animals. By chronicling the threatened and easily forgotten creatures that make up the natural world through drawn and figurative forms I hope to preserve their fragile essence as permanent artifacts.

---