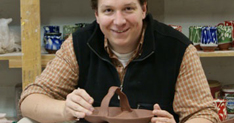 Sean OConnell
Rochester, NY


Artist's Bio
Sean O'Connell is a studio potter in Helena, MT and currently a 2012 - 2013 Windgate Fellow at the Archie Bray Foundation. His work is
inspired by the decorative traditions of the past and the contemporary language of today's ceramics. He earned his BFA from the Kansas City Art Institute in 2001 and his MFA from the School for American Crafts/ Rochester Institute of Technology in 2009. He was the 2009 Salad Day's Artist-in-Residence
at Watershed Center for Ceramic Arts in Newcastle, ME. In addition, Sean has taught at several Universities, Colleges, and Community Centers since 2001. Sean exhibits his work nationally, contributes to ceramic art publications, and conducts workshops and lectures around the country.

---
Artist's Statement
I make functional pottery based on the idea that beauty and purpose should be a part of everyday use. It is my pleasure to make these objects and my desire to see them in the hands and on the tables of others, who like me, have a passion for that which is tended and thoughtful.

My pots are direct expressions of my aesthetic interests. From abstract painting to Eastern calligraphic traditions, historical pottery to contemporary design, landscapes to poetry. These sources and others sustain and nurture my studio practice and provide unlimited points of departure for the study of form and surface. Critical to this process is the persistence of vision from one object to the next. Linking one grouping of work to the next through the spontaneity of brush work, the visual splendor of color, and the idiosyncrasies of form. These objects serve the purpose of expression within the context of utility.

---
Artist's Resume
View Resume PDF