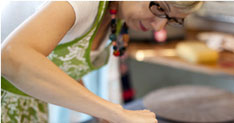 Julie Guyot
Tallahassee, Florida


Artist's Bio
Julie Guyot grew up among the cornfields in rural Illinois. She graduated with her BFA in ceramics from Southern Illinois University at Carbondale in 1994 and her MFA in studio art from Florida State University in 2008.

She is a full-time studio artist and resides in Tallahassee Florida with her husband, Clayton and her dog, Lucy.
---
Artist's Statement
My work examines a history through photographs and ephemera both found from outside sources and acquired from my own family. Using this imagery allows me to create my own narrative of a time and place and people that I know very little about. Blending my world, growing up in the 1970s and 1980s with my grandparents' world of the 1930s and 1940s I can create a nostalgia for something that never really existed.

I am also interested in patterns as they apply to domesticity. Wallpaper patterns, fabric prints, and sewing patterns are all influences and these show up not only in the visual qualities of my work, but in my processes and techniques.

My ceramic pieces combine images from different regions, time periods and families to form a new narrative. Through a combination of my memories and the stories and images of my grandparents' lives, this work attempts to re-write an old history in order to piece together a new beginning.

---
Artist's Resume
View Resume PDF