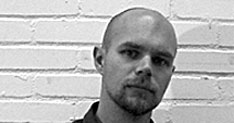 Jeremy Hatch
Bozeman, Montana


Artist's Bio
Jeremy Hatch is a Vancouver-based artist, recently transplanted to Bozeman where he is an Assistant Professor of Ceramics at Montana State University. He constructs large-scale cast porcelain sculpture and has received several research/production/travel grants. Jeremy attended residencies at the Takumi Studios in Japan, the European Ceramic Work Centre in the Netherlands, Watershed Center for the Ceramic Arts, and the Archie Bray Foundation, where he was the recipient of the 2007-2008 Taunt Fellowship. In the summer of 2011 Jeremy participated in Kohler's Arts/Industry Residency Program. He has taught courses at Interlochen Center for the Arts, Emily Carr Institute of Art and Design and the Rhode Island School of Design.



---
Artist's Statement
I seek to question the nature of nostalgia and the in/authenticity of memory. Occupying both social and solitary space, my sculpture is simultaneously monument and souvenir—a mnemonic device that awakens feelings of loss and longing.

For me, the act of casting is a symbolic gesture; it freezes a moment in time, recording and preserving forms and events that are impossible to relive. My work implicates the viewer as a participant, reflecting back the personal histories, desires, and anxieties brought to it.


Design and Collaborative Endeavors
Ricochet Studio Inc. is a registered company initiated by Artist Jeremy Hatch and is dedicated to producing well designed, well crafted objects that span a broad spectrum of purposes: from functional to decorative, architectural to domestic, experimental to traditional. Ricochet Studio also focuses on creating limited edition ceramic pieces in collaboration with artists from various disciplines.
---