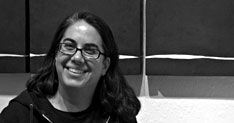 Jill Oberman
Missoula, Montana


Artist's Bio
Jill Oberman is currently the Executive Director of the Clay Studio of Missoula in Missoula, Montana. She has worked as the Programs and Administration Director at the Archie Bray Foundation for the Ceramic Arts in Helena, Montana, and the studio manager of the ceramics program at the Anderson Ranch Art Center in Snowmass Village, Colorado.

Jill earned her MFA from the Rochester Institute of Technology School for American Crafts in Rochester, New York, and her BA from Hamilton College in Clinton, New York. She has been a resident artist at numerous art institutions, notably the Anderson Ranch, the Archie Bray Foundation, and Arrowmont School for Arts and Crafts in Gatlinburg, Tennessee. While in her studio Jill focuses on creating minimal, architectural ceramic sculptures that have been widely exhibited throughout the United States, as well as sharing her passion of ceramics through conversation with anyone and everyone who will listen.

---
Artist's Statement
I find it interesting that all people universally establish protective structures, both architecturally and psychologically. In exploring ways that people relate to each other through these structures, I am investigating the tension revealed in the spaces between and around objects, and the way our view changes when framed by a window. The artwork focuses on architectural ideas of structure, reinforcement, support, and points of access, as they relate to more personal issues of growth, attachment, affinity, opposition, and patterns of experience.

My most recent work highlights the natural world, and the elusive space of the horizon; the contact point where the earth meets the sky, or the sky meets the water. This work explores the idea of an "absent presence", where what is most important is perhaps that which is no longer there. Using the imagery of the cherry blossom and other symbolic plants and flowers, I hope to express a feeling of optimism and hope through inevitable absence and loss. My sculptures attempt to convey a sense that the horizon might be a point of restoration: a space where there is a convergence between expectation, destiny, desire, hopelessness, distance, and vision.

---