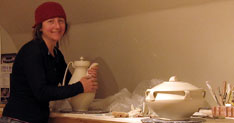 Lorna Meaden
Durango, Colorado


Artist's Bio
Lorna Meaden is currently a resident artist at the Anderson Ranch Arts Center, and prior to that she was a resident at the Archie Bray Foundation. She received her MFA from Ohio University and her BA from Fort Lewis College.
---
Artist's Statement
In response to the industrial revolution, the Arts and Crafts Movement fought to preserve the handmade. Society is now faced with the age of information. As participants in American society, we are constantly bombarded with images, information, and material objects, often unaware of their sources or relevance to our lives. Consumerist culture defines value through an equation dependent upon durability, disposability, and convenience. With the acceleration of the pace of life, and this equation of value, the mark of the human hand is reduced or eliminated. We seem to be moving away from objects that are made by humans for humans. The motivation for my work is my belief in the value and relevance of the handmade utilitarian object. Utility supports an authenticity dependant upon the direct communication of maker to user, through object. The handmade object serves as an illustration of the individual, the unique, and the useful.


I am drawn to work that is rich in ornamentation, with lavish use of materials- both scarce in a culture of mass production. As explained in The Language of Ornament, "Ornament stood not just for everything that made pleasure possible: the energy to see and care about one's environment, the ability to tell good work from bad, and above all the assumption, shared if not always articulated by the whole society, that beauty should, and could, be part of people's everyday lives." (Trilling, James, p. 191) Historical sources for my work include 18th century European manufactured porcelain and silver. I draw from these sources, as they are connected to my heritage, and comfortingly nostalgic to the home where I grew up. They are appealing in their elegance of form, utility, and abundance in decoration; the practical and the extravagant. My sense of aesthetics superimposes sophistication and naivete. My forms suggest sophistication through their sense of lift and use of exaggerated feet, in contrast to their playful gesture of stance, and animated attachments. My approach to the surface of the work comes from the sensibility of a seamstress. I look at clothing and costume as sources for embellishment, referencing stripes, polka dots, and the diamond pattern from the jester costume. The making of my work references the process of sewing with the use of darting, press molds made from textured fabric, upholstery, and attachments made from drawn patterns.


The cadence of daily life is punctuated by situations that revolve around eating and drinking. These social contexts allow us to notice what has happened that day, that week, or in the past year. We reflect upon ourselves, and serve as mirror images for others. These representations are measures in time, marking points of what has changed, and what has stayed the same. Functional pottery, in its connection to sustenance, closely relates to the human body, revealing what it means to be human. Handmade pots are potent in their power to reveal the extraordinary, within the ordinary. As Clary Illian states, "Food, drink, and plants are so central to our daily lives, so charged with emotions of self-gratification, nurturance, and relationship to other human beings that the containers associated with them will always be objects of symbolic power." I am driven by the insatiable pursuit of the good pot. Successful in terms of tactile, visual, and functional attributes; lastingly significant when packed with the passion of the maker, reflecting humanity, and contributing to the craft.

---